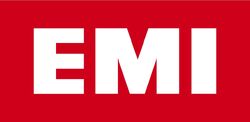 The EMI Group, also known as EMI Music, or simply EMI, was a British multinational music company headquartered in London, United Kingdom, now part of Universal Music Group. It was the fourth-largest business group and family of record labels in the recording industry and was one of the big four record companies (now the "big three"). EMI Group also had a major publishing arm, EMI Music Publishing – also based in London with offices globally. EMI was a member of the RIAA & IFPI.
The company was once a constituent of the FTSE 100 Index, but faced financial troubles and $4 billion dollars in debt, leading to its acquisition by Citigroup in February 2011. Citigroup's ownership was temporary, as it announced in November 2011 that it would sell its music arm to Vivendi's Universal Music Group for $1.9 billion, and EMI's publishing business to a Sony/ATV consortium for around $2.2 billion. Other members of the Sony consortium include Blackstone and Abu Dhabi-owned investment fund Mubadala. Both before and after the sale announcement, Universal Music Group pledged to sell off EMI assets to the value of half a billion euros.
Involvement with Sky Ferreira
Edit
Sky Ferreira signed to EMI in 2009.