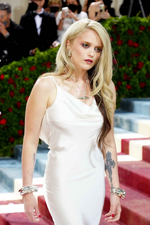 Sky Tonia Ferreira (born July 8, 1992) is an American singer, songwriter, model, and actress. Ferreira's first extended play, As If!, was released digitally on March 22, 2011. Her second EP, Ghost, was released on October 16, 2012 to generally positive reviews.
Ferreira's "Everything Is Embarrassing" was named one of the best songs of 2012 by publications such as Pitchfork Media, The Guardian, the Los Angeles Times, Spin, Fact, and New York. Ferreira released her much-delayed debut album, Night Time, My Time in 2013 and made her major motion picture debut in Eli Roth's The Green Inferno.
Early life
Edit
Sky Tonia Ferreira was born on July 8, 1992 in Venice Beach, Los Angeles, California. She is of Native American, Brazilian and Portuguese descent. According to Ferreira about her mixed ethnicity, she stated that "My dad is Brazilian and Portuguese and my mom is Native American. It's funny because I came out looking like, pretty white."
Growing up, Ferreira was largely raised by her grandmother who was Michael Jackson's personal hairstylist for over 30 years and grew up around Michael Jackson.
In an interview with BBC Radio 1's Newsbeat, she said, "We just became friends with him. When I was born, I was raised around him, I always saw him. I had holidays with him and stuff like that, adding that she was unaware of his fame until she was 13 years old.
As a child, Ferreira expressed interest in singing and with Michael Jackson's encouragement, her grandmother enrolled her in opera lessons when she was 13 years old She spent the next few years maintaining a Myspace profile where she uploaded various demos of self-written tracks.
Shortly before her fifteenth birthday, she caught the attention of Swedish production duo Bloodshy & Avant by contacting them through the social networking site. The producers were impressed and subsequently decided to work with her.
Ferreira dropped out of high school after her sophomore year.
2009–11: As If!Edit
After signing with her first record label, Parlophone in July 2009, Ferreira subsequently appeared in the music video for Uffie's "Pop the Glock", guest starred on Fashion News Live, and starred in the 2010 independent drama film Putty Hill as Jenny. In June 2010, Ferreira appeared on the cover of Jalouse magazine after being featured in Dazed & Confused, Interview, and Purple. At the same time, she began to write and record material for her debut studio album with producers and co-writers Bloodshy & Avant, Greg Kurstin, Nicole Morier, Klas Åhlund, Colin Munroe, and Vincent Turner, registering titles onto BMI and ASCAP.
Following the release of "17", "One", and "Obsession" as singles, it was announced through a press release the album would be released on January 11, 2011. However, the album was postponed and an extended play titled As If! was announced for release on March 22, 2011 by Capitol Records instead. Ferreira was concurrently featured in the advertisement campaign for Calvin Klein's CK One fragrance. Ferreira appeared on the Spring/Summer 2011 cover of Vs. magazine, shot by photographer, Ellen von Unwerth. She also appeared in a fall ad campaign by Adidas, alongside Snoop Dogg and Big Sean.
2012–present: Ghost and Night Time, My TimeEdit
In October 2011, Ferreira announced in a magazine that she is still currently working on her debut album, but is changing her musical direction to a more Blondie-inspired sound, stepping away from electropop. A month later, Ferreira announced on her official Facebook page that the new album is expected to be released during the summer of 2012 and the first single in February 2012. In December 2011, Ferreira announced that she was working with Jon Brion, Shirley Manson, and Greg Kurstin for her debut album. On January 23, 2012, Ferreira revealed the title of her debut album, Wild at Heart. On February 7, 2012, Ferreira confirmed "Swamp Girl" and "24 Hours" as the titles of two tracks from Wild at Heart. Through her Tumblr, she also revealed "Broadway Life for Me", "Choke", "One Man Show", and "Wild at Heart". On May 27, 2011, Ferreira uploaded a preview of "Werewolf" to her SoundCloud page.
"Lost in My Bedroom", which according to Ferreira is "the most 'electro pop' on the record", surfaced online on March 2, 2012. Scheduled to be the first single off the album, she opted out for "Red Lips". Ferreira stated that she will release two music videos for "Red Lips" on June 12, 2012. As of June 2012, one video for "Red Lips" has been released, and the title of the debut album has been changed from Wild at Heart to I'm Not Alright. In mid-2013, it was revealed that the title had changed to I Will.
On August 8, 2012, Ferreira posted an outtake of her then-upcoming EP on her official Tumblr page, adding that the EP would be released in early September and is produced by Brion. On August 30, it was announced that the EP is titled Ghost, along with the premiere of the track "Everything Is Embarrassing", co-produced by Dev Hynes and Ariel Rechtshaid. Released on October 16, 2012, the EP features five songs, including "Red Lips" and "Everything Is Embarrassing", along with three new songs, "Lost in My Bedroom" (which was used in the December 13, 2012 episode of ABC's Grey's Anatomy), "Ghost", and "Sad Dream". In her debut television performance, sang "Everything Is Embarrassing" on the Monday, January 7, 2013 episode of Late Night with Jimmy Fallon.
On October 11, 2012 a trailer for a film titled IRL was released featuring Ferreira.
Ferreira's debut album, Night Time, My Time was released through digital outlets on October 28, 2013. During the same week as the release, iTunes also offered "24 Hours" as the Single of the Week for free. On November 7th, Capitol revealed information for a new EP including songs that were intended for the album, but didn't make the cut. It was revealed to be titled Night Time, My Time B-Sides: Part 1. The pre-order was made available the same day with shipments limited to the US.
In November 2013, Ferreira and Icona Pop were announced as the opening acts for Miley Cyrus' upcoming Bangerz Tour, scheduled to begin in February 2014.
Musical Influences
Edit
Ferreira has cited Madonna, Prince, Fiona Apple, Gwen Stefani, Alice Cooper, Nancy Sinatra, Cat Power, Hole, Elliott Smith, Carly Simon, Françoise Hardy, Kate Bush, Britney Spears and the Runaways as musical influences.
Personal Life
Edit
Ferreira has dated former The Virgins band member Nick Ackerman. She resides in Brooklyn, New York and is in a relationship with DIIV frontman Zachary Cole Smith.
In the early morning of September 14, 2013, Ferreira and boyfriend Smith were arrested at a traffic stop in Saugerties, New York for drug possession. Ferreira, who was in possession of ecstasy tablets, was arrested on drug possession and resisting arrest. Smith was in possession of heroin. Her bail was set at $1,500 and she was later released. 
After bailing themselves out, Ferreira and DIIV performed at Basilica Hudson's BasilicaSoundScape Festival in Hudson, New York.
On February 20, 2014, during the third performance opening for the Bangerz Tour, Ferreira fell and split open her shin onstage.
After finishing the performance, she was taken by ambulance to an Anaheim hospital and treated with 60 stitches. As a result of the injury, she was forced to temporarily pull out of support for the tour, but returned shortly after.
Ferreira has stated that she was sexually assaulted in her adolescence twice, first by a neighbor and second, in an incident that involved a stranger who had broken into her home.
In an interview with "Rookie", she said: "I've never said anything [about this publicly] because I don't want it to define me, but I feel like it's appropriate to say something [here]. People feel like it defines you, and it doesn't. It's really unfortunate and disgusting and traumatizing, but it doesn't make you who you are."
Discography
Edit
Studio albums
Edit
Extended plays
Edit
Music videos
Edit
Music video appearances
Edit
Title
Year
Artist
Director
"Pop the Glock"
2009
Uffie
Nathalie Canguilhem
"Wait"
2013
DIIV
Sandy Kim
"Diane Young"
Vampire Weekend
Primo Khan
"LA Drugs"
Starred
Focus Creeps and Man Kim Atelier
Filmography
Edit